+91 80 8802 8802 | sales@pragnyaedenpark.com
Almond tower –

Ready To Occupy
Exclusive Lounge
3bhk premium
2050sqft 1.15cr onwards
UNIT PLANS
3D VIEW
PERSPECTIVE VIEW
FLOOR PLAN
UNIT PLANS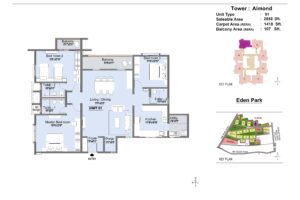 3D VIEW
PERSPECTIVE VIEW
FLOOR PLAN
Pragnya South City Projects Private Limited,
Pragnya sales Lounge,
Edenpark Phase -2,
M.R. Main road,
Pudupakkam Village,
Next to SIPCOT IT PARK, Siruseri,
Off OMR, Chennai – 603103,
Tamilnadu, India
sales@pragnyaedenpark.com
What are the most important things to consider when buying luxury apartments in Siruseri?
Ensure that the project is well-planned with thoughtful amenities and features.
Know your suburb: check if all necessities like schools, supermarkets, police stations, metros, bus stops, etc. are in the vicinity
Check if the project is funded by any nationalized banks to ensure all the legal documentation is proper and approved.
Look for surrounding facilities: if infrastructure is gradually improving around your property, it ensures a high-yielding profit in the future
Choose a sophisticated, quiet and pollution-free neighbourhood.
What amenities are offered at Pragnya Eden Park?
Pragnya Eden Park offers a comfortable and luxurious lifestyle with world-class amenities:
A sports facility that is within the residential community including a space for skating, futsal and cricket.
Extensive landscaping with refreshing green spaces.
Chennai's best CBSE School within the township
Padma Seshadri Bala Bhavan School (PSBB School) located within the compound of eden park making it the perfect the integrated lifestyle township.
Is Pragnya Eden Park Approved by the CMDA?
It is CMDA-approved and registered under the RERA Act.
Which Major IT hubs are located near Pragnya Eden Park?
The SIPCOT IT Park is around 2.5 Kms away from the township and Pragnya Eden Park is easily accessible from the IT Corridor. Major companies such as Infosys, Tata Consultancy Services, Hexaware Technologies, Cognizant Technology Solutions, Capgemini and Syntel are in the vicinity.
[contact-form-7 id="1869" title="Enquiry Now"]
Pragnya South City Projects Private Limited,
Pragnya sales Lounge,
Edenpark Phase -2,
M.R. Main road,
Pudupakkam Village,
Next to SIPCOT IT PARK, Siruseri,
Off OMR, Chennai – 603103,
Tamilnadu, India
sales@pragnyaedenpark.com